It is my pleasure today to give a a review of BUTTERMAN (TIME) TRAVEL, INC. by PK Hrezo for the Butterman (Time) Travel Inc blog tour.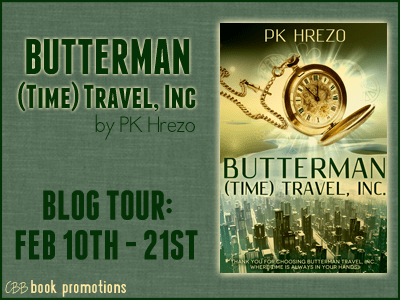 You can read the 5 Star short review that I left on Goodreads here, but since I finished the book a few weeks ago, it has really stayed with me. I think many of us contemplate the impermanence of time quite often. When things are boring, time slows down. We often don't have enough time or complain about there not being enough hours in the day to get the things done we need done. Time moves slower when we're younger, and faster when we're older. My parents are celebrating their 45th wedding anniversary next year and I'll be celebrating my 10th this year, and that just doesn't seem possible! Where did the time go?
What I loved most about BUTTERMAN (TIME) TRAVEL, INC. was all the commentary on time. PK Hrezo's characters were lovely, as were her descriptions of future Manhattan and Woodstock gone-by, but what stuck with me most was time, how precious it is, how wasted it can be, how fleeting it is when it slips right through your fingers. Bianca, the heroine of the book, knows time all too well. Her family has been running the time travel agency for a few generations, and she's well-aware of how easily time can be corrupted or missed, and even with that knowledge, she's still willing to break some rules to make the most of time. Bianca symbolizes all that's great about a true heroine. She's smart, she's a risk-taker, and she has a good heart, but she also knows when she's beaten enough to ask for help. I can't tell you how many heroines annoy the crap out of me because they try to handle everything themselves and never ask for help. Bianca won my heart in Woodstock (and that's all I can say about that because spoilers).
Near the end of the book, Bianca is given the opportunity again to change time and make another shift in the timeline and that was the point that I was sold. I knew what she was doing was right for the story, but then I wondered what I would go back and change if I were given the same opportunity. There are a few things about college I would love to go back and fix, but then I'm pretty sure I would never have met my husband if I did. I often think about going back and changing my decision to keep working at my old job instead of quitting. But then, I may never have written books or had my second child. Every decision has consequences along our journey through time and you've got to be insanely brave to go back and mess with any of that. Bianca made strong decisions, ones I could really admire, and that made me love her even more.
I don't think you'll be disappointed in the story or Bianca and her ride-along, Tristan. He was a good foil for Bianca. He made all the rash decisions when she was by-the-book. He was soft when she was all hard-angles. And when he finally got to her, he showed her how some decisions and actions are important enough to make more than once. An excellent hero that I hope to see more of too when more books come out.
If you decide to read BUTTERMAN (TIME) TRAVEL, INC., I'd be interested to hear your thoughts on time and how the book handled it. My mind is still swirling with some of the possibilities that PK Hrezo offered up in this novel (from the past, present, and future storylines of the Butterman family). I can't wait to read the next in the series.
Read an Excerpt
This is a really lovely part of the book. So glad PK chose this for today.
Once Tristan sets the guitar down, stops singing, it takes a few minutes for my brain to register it's over. The sound waves still echo his voice, caressing my ears. But once I'm aware, I'm very aware, and I reach out for his thigh, clutch it. "Where did you learn to sing like that?"
His blue-gray eyes dance with firelight. "You liked it?"
"Um, yeah. Like isn't even the right word. That is so far from U-Turn style, I don't even know if you're the same person."
He chuckles, airy and agreeable, his cheeks coloring. "Guess that's good then." He shrugs. "Or you're just wasted. But I have been working on finding the right pitch and style over the last few months. Trying some things out."
"That song … what is it? Is that the one—?"
"My song. Yeah." He averts his eyes with what must be a dash of modesty, then changes the subject. "Thought you were passed out? Looked like it."
"Maybe I was. I don't even know. But I heard you singing … and … Tristan, sing it again. The whole thing. Please." I don't even care if I'm begging. I need to hear that again.
Tristan shakes his head. "Naw, I need a break. Throat's dry."
Anxious for another dose of his voice, I attempt a splash of flattery. "I had no idea you could sing like that. If you performed that as a single, in the same slo-mo mellow campfire style you just did, I guarantee you will have a whole new fan base." I realize I'm still gripping his thigh and release it, sit back. My passion is coming to a head inside me. I might explode.
"Really, Butterman? We were just messin' around. And I'm pretty loaded right now." He chuckles, but maintains eye contact, as if my praise means a hell of a lot more to him than he's letting on.
I'm silent for a few seconds that seem like forever and I can't unlock the stare. Don't want to.
About the Author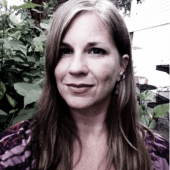 PK Hrezo is a native Floridian whose life could easily be a Jimmy Buffet song. She shares her home with her firefighter husband and their two children. When not creating characters and their worlds, PK can be found at her other job of rearranging passenger's itineraries for a major international airline. The only hobbies she loves more than traveling, are reading, writing, and music, and when the four are combined she exists in total bliss.
PK HREZO: Fearless Fiction: http://pk-hrezo.blogspot.com/
Twitter: http://twitter.com/PKHrezo @pkhrezo
Facebook: http://www.facebook.com/authorpkhrezo
Website: http://down-the-rabbithole.com/