New Adult is not just about contemporary romance. Today, I have a romantic suspense to showcase!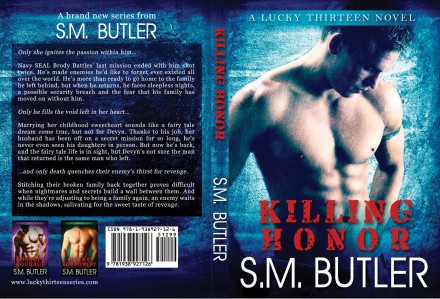 Only she ignites the passion within him…

Navy SEAL Brody Battles' last mission ended with him shot twice. He's made enemies he'd like to forget ever existed all over the world. He's more than ready to go home to the family he left behind, but when he returns, he faces sleepless nights, a possible security breach and the fear that his family has moved on without him.

Only he fills the void left in her heart…

Marrying her childhood sweetheart sounds like a fairy tale dream come true, but not for Devyn. Thanks to his job, her husband has been off on a secret mission for so long, he's never even seen his daughters in person. But now he's back, and the fairy tale life is in sight, but Devyn's not sure the man that returned is the same man who left.

…and only death quenches their enemy's thirst for revenge.

Stitching their broken family back together proves difficult when nightmares and secrets build a wall between them. And while they're adjusting to being a family again, an enemy waits in the shadows, salivating for the sweet taste of revenge.

This New Adult title includes adult situations and language and may not be suitable for readers under 18 years.
KILLING HONOR by S.M. Butler
Series: Lucky Thirteen, #1
Genre: New Adult Romantic Suspense
Release Date: March 24, 2014
Length: Novel
eISBN: 978-1-938927-12-6
Print ISBN: 978-1-938927-13-3
Queue it on Goodreads: https://www.goodreads.com/book/show/20743235-killing-honor
About the Author
S.M. Butler is a new adult romantic suspense and military romance author with a penchant for Dr. Pepper, ice hockey, and world domination, not necessarily in that order. She lives in Texas under a not-so-secret identity (Suzan Butler, who writes adult romance) with two monsters of her own while she works on her next step in her evil plans to take over the world. She loves to hear from readers.
Website: http://www.suzanbutler.com/
Twitter: http://twitter.com/SuzanButler
Facebook: http://facebook.com/SuzanButler
Goodreads: https://www.goodreads.com/suzanbutler