Really, the only thing that keeps me from writing or being HERE FOR YOU is sickness and, wow, were we struck by the plague recently. My friend Lolly says I should get someone in to exorcise the demons from my home, because they just won't quit, and she's probably right.
In my last post, I spoke of how I just finished a huge revision on Book 1, REMOVED, and I was off to NYC for the weekend to attend the SCBWI Winter Conference. As you can imagine, I put my heart, soul, and any last bit of energy I had into both the revisions and the conference. I attended the conference both Saturday and Sunday, met new people, listened to a lot of great panels and keynote speeches, and introduced myself to editors my agent is querying RIGHT NOW. It was a fantastic time! And despite how tiring the whole weekend was, I was genuinely inspired and raring to go.
But then something happened. My 5 year old got the flu, and we're not talking a cough and a stuffy nose, we're talking all of that plus 105 degree temperatures, dangerous fevers that didn't want to go down, and my daughter wanted nothing to do with the Tylenol or Advil.
And it lasted for 10 days. Then she got a double ear infection. She was home for two weeks! And it wasn't just hard on her, it was hard on everyone. Poor thing. The good news is that she's almost all healed up and back in school now.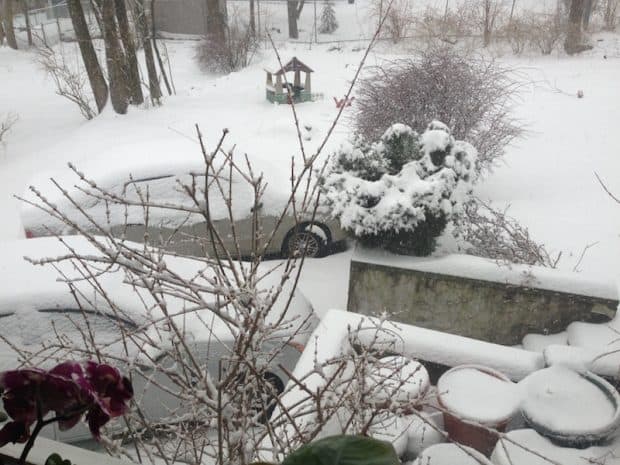 We also got a blizzard too!
But being so worn down from working so hard then attending the conference and my sick child, I got sick with a cold too, and I'm only just now recovered. So, that's what happens when you drive yourself into the ground, folks! You get sick in ways you never thought you could.
I'm back now! And I have things to look forward to. Not only is my book back out on submissions, and I'm excited to get to another round of revisions on Book 2, but I also have something new I'm working on. Something totally different from what I have been writing.
My series books are all Japanese-inspired YA sci-fi and this new idea is contemporary women's fiction (I will tag it here on the website as Adult Book 1). I'm writing in the same style (because it's what works for me) but my characters are in their early to mid-30s and the time and place is New York City, Seoul, and Seattle in 2012. I think it'll be a great compliment to my other work. It's romantic, sweet, and a explores a lot of what makes living interesting RIGHT NOW. I told my agent about it this morning and she's really excited by the idea! I've even written a blurb and a synopsis already and that is VERY unlike me. VERY. I usually save that for last. But the ideas are just pouring out of me and I'm harnessing them in Evernote like a pro. P.S. Evernote is my new favorite thing. I have access to it on my iPhone, iPad, and computer so I can use it for just about anything!
Now that I've made it through that rough patch, it's onward and upward from here. I keep hoping spring comes early and March proves to be easier than February. Let's keep our fingers crossed.
I'll be back tomorrow with photos and notes about my latest finished knit!