And that is definitely an all-CAPS worthy blog post title!
I'm very fortunate to be writing this quartet of books later in life. If I had written these ten years ago, I would not have the kind of connections that I have now. I know a bunch of people in publishing, am friends with some other authors, and I had the opportunity to send my manuscript to my good friend, Margaret O'Connor, when I was done with it. She's been a literary agent now for 8 years, having just moved back east this past year after working at a larger agency in LA for the majority of the 2000s. I knew right off the bat that she and I would work really well together. We're both very open about our opinions and enthusiastic about books, fiction, and the publishing business. She's represented a few other YA authors and loads of other books including non-fiction. I completely trust her.
So, I sent her my manuscript back in November and she put it in her to-be-read pile, and I kept going. I wrote Book 2 and revised it, and she was still reading (she's only one person representing several other authors!) and while she was still reading, I decided to try querying other agents. I had some limited success but hadn't gotten very far. In total, I only sent out 17 queries altogether! I received 9 rejections and 1 request for a partial manuscript, and there were many that were just hanging out there.
On Wednesday, March 21st, I got an email from Margaret (Maggie), that was full of happy things. She loves my book! She thinks the world is unique and my characters are vivid and lovable. I had a feeling she'd be into it! So we skyped and I talked about my vision for the whole series and at the end we agreed to work together. I'm so super excited, I nearly died. Nearly.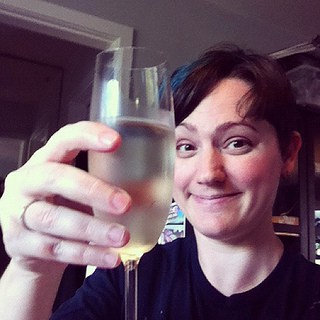 So that's my good news for the week as I go into revisions on Book 2 and keep at my first draft of Book 3. Maggie believes that REMOVED (Book 1) is absolutely editor ready. She had no suggestions for revisions which is especially pleasing to me. I have worked really hard at making it as perfect as I can though I do expect plenty more revisions once it gets picked up.
Now the fun part begins! I've been providing Maggie with tons of supplementary material to help her understand the Japanese historical and cultural references that I've packed into REMOVED. And next month I'm attending the 2012 SCBWI Eastern PA Pocono Retreat (thank you Kim for the suggestion!) and I hope to meet other authors and some editors, and knit and just relax while talking about my books. If you're going to be there, please say hi!